Aachen is situated in North Rhine-Westphalia, near the Dutch and Belgian borders, close to Maastricht in the Netherlands. Popular sites to visit are the Aachen Cathedral, the Cathedral Treasury, the Marketplace (Marktplatz), the Old Town Hall, the Ludwig Forum for International Art and the Couven Museum.
MORE ABOUT AACHEN
LOW EMISSION ZONE AACHEN
Please note that a Low Emission Zone (Umweltzone) exist in the city centre area and the first adjacent zone. Without a Umweltzone sticker the entrance into this area is prohibited.
More information.
​ ​
Parking in Aachen
On-street parking is chargeable and unlimited. A big parking capacity is available in the many car parks in the city centre and in the P+R's on the outskirt of the city. A Low Emission Zone (Umweltzone) doesn't exist in the center of Aachen.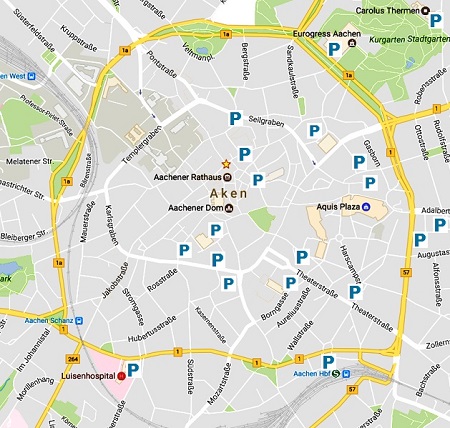 On-street parking Aachen

Paid parking is set to the city centre of Aachen on Monday-Saturday from 09:00-21:00. The maximum stay is unlimited and the parking rate for the 1st hour is € 1.10, 2nd hour € 1.90, subs. € 2.00/hour.

In the adjacent area paid parking is set on Monday-Friday from 09:00-19:00 and Saturday from 09:00-14:00. Parking rate : 1st hour € 0.70, 2nd hour € 1.05, subs. € 1.20/hour. Daily maximum € 5,00.
Car parks Aachen
Unlimited parking is set to car parks in the city centre. Parking rates : € 2.00/hr, daily maximum € 11.50-13.00. Cheap rates apply after 20.00 hours.
READ MORE
P+R-parkings Aachen
Free parking and public transport to the city centre are available on :

P+R Waldfriedhof - Monschauer Strasse - Aachen

P+R Jülicher Strasse - corner Berliner Ring/Jülicher Strasse

Westfrieshof - Vaalser Strasse - Aachen

P+R Tivoli - Krefeler Strasse 205 - Aachen (highway A4, exit Zentrum)
On Saturday en shopping Sundays a special arrangement is set for P+R Westfrieshof and P+R Tivoli : parking included public transport (max 5 persons) to city center for just € 5.00.
MORE INFORMATION
.
​