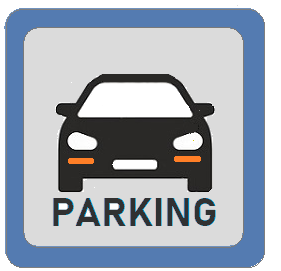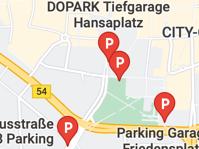 DORTMUND
has few possibilities for on-street parking in and outside the city centre ring. You better use the car parks. Signs of the parking system informs you about capacity on parking lots and car pars.
LOW EMISSION ZONE DORTMUND

Please note that a Low Emission Zone (Umweltzone) exists in the city centre area of Dortmund. Without a Umweltzone sticker the entrance into this area is prohibited.
MORE INFORMATION.
ON-STREET PARKING DORTMUND
Dortmund has no parking capacity on-street. The only possibilities are the Eisenmarkt and Kuckelke for a rate of € 2.00/hour.
FREE PARKING
Free parking is possible outside the center ring along the Baumstrasse, Kapellenstrasse, Krimstrasse, Mühlenstrasse, Brügmannstrasse, Hans-Litten-Strasse, Kronprinzenstrasse and Unionstrasse.
CAR PARKS DORMUND
Unlimited parking is set to car parks in the city centre. Parking rates : € 1.50-2.00/hour, daily maximum € 10.00-15.00.

P+R-PARKINGS DORTMUND
Free parking is also available at the Westfalenhallen (Joseph-Scherer-Straße) on the outskirts of the city. Public transport to the city is available.