Seville, the capital of Andalusia, lies on the banks of the Guadalquivir river. Interesting places to visit are the Alcázar, the Giralda tower, the Cathedral, Casa de Pilatos, Torre del Oro, the Town Hall, Archive of the Indies, the Fine Arts Museum , convents, parish churches and palaces.
MORE ABOUT SEVILLE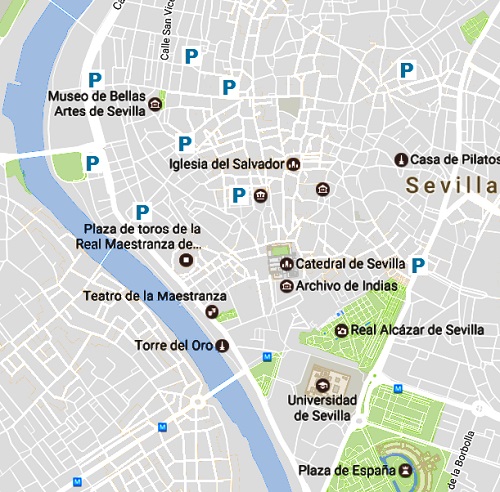 Parking in Seville
The very small streets in Centro Barrio Santa Cruz are not suitable for driving and parking. So use one of the central (undergroud or multi-storey) car parks for your stay in Seville.
Seville City Centre
On-street parking
Operational hours
Charge
Monday to Friday
(max 2-3 hrs)
09.00 am - 02.00 pm
05.00 pm - 08.00 pm
Saturday (max 2-3 hrs)
10.00 am - 02.00 pm

Blue zone : maximum 2 hours : 1st hour € 0.75, 2 hours € 1.70

Green zone : maximum 3 hours : 1st hour € 0.65, 3 hours € 2.00
Car parks in Seville
Unlimited parking is set to car parks in the city centre. Parking rates in public car parks : € 1.15/hour, daily maximum € 12.00-19.00.
READ MORE