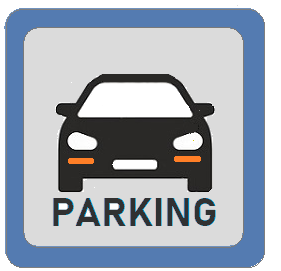 Parking is strict in urban areas and only permitted in white parking spaces. Parking is limited on street and unlimited in car parks. Many cities have modern and secured car parks. The rates in car parks are higher than on the street.
FRANCE : DRIVING AND PARKING REGULATIONS
Speed limits
The following max. speed limits apply for cars and motorbikes:

Urban areas :
50 km/h

Non-urban areas :
90 km/h

Motorways :
130 km/h
The maximum speed may vary due to weather conditions.
Parking regulations

White lines
: paid parking.

Yellow lines
: commercial and official vehicles only. Drop off or pick up passengers is still allowed.

Parking is forbidden in the centre of Paris along AXES ROUGES (red routes).

Parking is free for 1 hour in the blue zones during paid parking hours and unrestricted in all other hours. For parking here you must display a parking disc (disque de contrôle/stationnement) in your windscreen.
Parking disabled car drivers

Without payment you may park at spaces reserved for card holders only and on paid parking places. In many areas, you may exceed the time limit on a road where parking is free but is restricted by time.