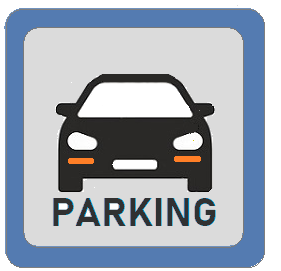 Many Italian cities have time restrictions when cars are allowed into the centres where parking is set to residents with a parking permit only. The restrictions depend on the day of the week and time of day.
ZONA TRAFFICO LIMITATO (ZTL)

Many cities and towns have introduced restricted areas (ZTL) in their city centres. Driving here is authorized to local inhabitants only. If you have booked a hotel in the ZTL you can ask your hotel to arrange a permission to enter the zone.
ITALY : DRIVING AND PARKING REGULATIONS
Speed limits
The following max. speed limits apply for cars and motorbikes:

Urban areas :
max 50 km/h

Regional roads :
70-90 km/h

Main roads :
110 km/h

Highways :
130 km/h
The maximum speed may vary due to weather conditions.
Parking regulations
On-street parking is usually on the right side of the road on Monday to Saturday and pending on local rules even Sunday.

Pay and display zones
: buy your parking ticket from the p-machine and display it clearly in the front windscreen.

Green zones
: no parking on working days from 08:00-09:30/14:30-16:00.

White zones
: parking along white lines is free of charge.
Parking blue zones
Free parking with an international blue parking disc set (available from banks, tourist offices, tobacconists and post offices).
Parking disabled car divers

With the European Blue Card you may park on parking spaces reserved for card holders only. In most areas you must pay where payment is required. Parking is unlimited except on those places where it is restricted. Do not park in a pedestrian or ZTL (limited traffic) zone, unless the traffic signs allow this.