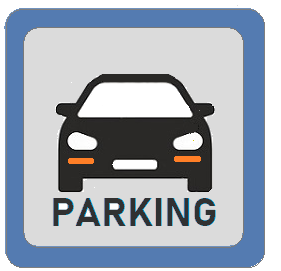 In
BASEL
on-street parking is set in all areas of the city. Parking is rather expensive. Street parking cards can be bought at any ticket machine. More parking capacity is available in parking garages.

A Swiss motorway vignette is required to use the national motorways. This sticker can be bought at customs offices, post offices, petrol stations, garages, road traffic offices and from Basel Tourism. The price is CHF 40.
BASEL ON-STREET PARKING (Blue Zones : Basel and Riehen)

Blue Zones
Operational hours
Charge and Stay
Monday to Saturday
08:00 - 19:00
Half day CHF 12.00
Full day CHF 20.00
You can choose between a half-day parking ticket (08:00-13:00 or 12:00-19:00) for CHF 12.00 or full day parking (08:00-19:00) for CHF 20.00. Parking is free of charge 19:00-08:00 and on Sundays and public holidays.
FREE PARKING BASEL
There still are a few free parking possibilities in the white zones. The maximum stay in the white zones varies from 30 minutes to 3 hours. Please note that parking is not permitted in parking bays with yellow lines.
CAR PARKS BASEL
Unlimited parking is set to the car parks in the city centre.
Parking rates in the city centre are 3 CHF. Lower rates apply for evening and overnight parking.

More information