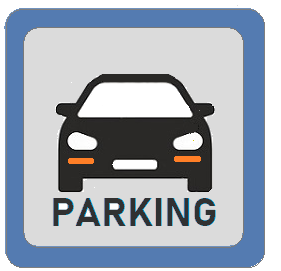 LYON
is not a car-friendly city. So if you arrive by car, use one of the city-centre car parks or P&R-locations on the outskirts of Lyon with excellent public transport to the city centre.
LYON : ON-STREET PARKING

City Centre
Operational hours
Charge and Stay
Monday to Saturday
09:00 - 19:00
€ 2,00/hour
(max.2 hours)
Sunday/Public Holidays
Free parking ( * )
*

Parking on all sundays in the month of August and on National Celebration day is
NOT FREE OF CHARGE
OTHER PARKING RULES
On quai Romain Rolland unlimited parking applies for a flat rate of € 3,00 from 07.00 pm in the evening up to 09.00 am in the morning, even in August.
PARKING AROUND CITY CENTRE
In the first adjacent area paid parking applies Monday to Saturday from 09:00 - 19:00. Parking rate € 0,50/30 min., 3 hours parking cost € 4.00. Be carful : parkin longer than 3 hours costs quite a lot mote.
CAR PARKS LYON
Unlimited parking is set to car parks in the city centre. Parking rates : € 1.65-1.95/hour, daily maximum € 15.50. Special rates apply for evening and overnight parking (€ 4.55).

More information
P+R-PARKINGS
Lyon is not car-friendly so if you arrive by car, you are advised to park on one of the many P+R locations on the outskirts of the town. Public transport is excellent. The city of Lyon offers free parking in co-operation with the public transport of Lyon.