Bologna is situated in Northern Italy. Its a lively and cosmopolitan city with a rich history, art, cuisine, music, and culture. The historical city centre is one of the biggest in Europe with dozens of buildings dating back to the Medieval, Renaissance, and Baroque styles.
MORE ABOUT BOLOGNA
ZTL BOLOGNA

The LTZ is active permanently and controlled by video cameras. Staying in a hotel inside the ZTL? Ask your hotel to assist you with the registration of your license plate number of your car. A day pass costs € 9 and is valid 24 hours for parking in all pay parking areas (blue lines) of the city.
Map ZTL.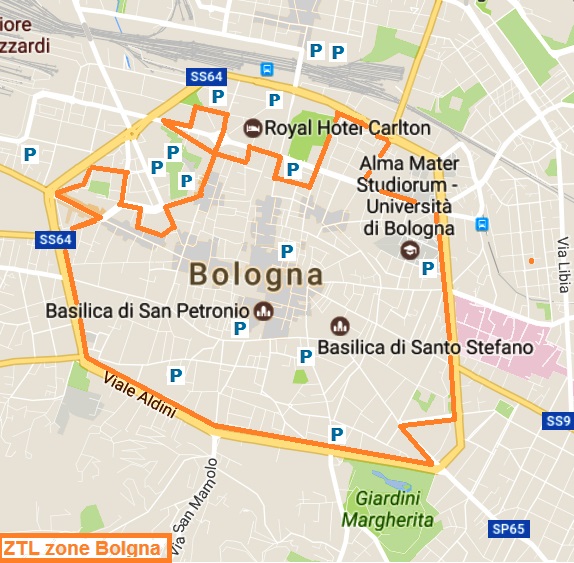 Parking in Bologna
Paid parking is set in and outside the city ring of Bologna. Visitors are advised to use the cheap parking lots around the centre or the pricey car parks close to the historic centre. In the historic centre driving and parking is authorized to permit holders only.
City centre Bologna
On-street parking
Operational hours
Charge
Monday to Sunday
07.00 am-08.00 pm
Cerchia Del Mille
€ 2,40/hr
Centro Storico
€1,80/hr
Parking around city ring
In the area adjacent to the city ring (Corona semicentrale) paid parking applies on Monday to Friday from 08.00 am - 06.00 pm.
Parking rate € 0.60-1.20/hour, pending on the zone.
Parking lots Bologna
•
Parking G.T.
- Via Del Porto, 5 - 40122 Bologna
•
Parking Sferisterio
- Piazzale Baldi - 40126 Bologna
•
Parking Ex-Staveco
- Viale Panzacchi, 10 - 40136 Bologna
•
Parking Astronolo
- Via Regnoli, 2 - 40138 Bologna
Car parks Bologna centre
Unlimited parking is set to car parks in the city centre. Parking rates are : € 2.50-5.00/hour. Lower rates apply for the evening.
READ MORE