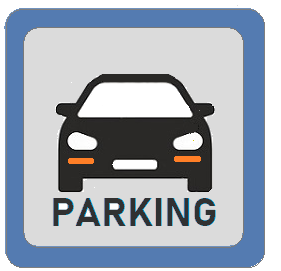 The city centre of Milan is for a great part reserved for pedestrians, while parking for non-residents is limited and expensive. Visitors may park on parking bays with blue lines. The city centre is a congestion zone (Area C).
ZTL ZONE (Zona Traffico Limitato) Milan
The access to the centro storico of Milan is limited by the Congestion Charge, operational only on Monday-Friday from 07:30-19:00 (Thursday till 18:00).
For entering the Area C you must have an Area C ticket that can be bought at the parking meters, ATM points (Milan Transport Company), news stands and tobacconists. The ticket costs € 5.00, all other parking costs to follow.

Hybrid, bi-fuel and electric cars are exempt of the congestion charge.

Forbidden are cars with old diesel and gasoline engines, and private vehicles over 7 m long.
MORE ABOUT AREA C MILAN.
MILAN : ON-STREET PARKING

City Centre
Operational hours
Charge and stay
Monday to Sunday
08:00 -19:00 :


19:00 - 24:00 :
2 hrs: € 2.00/hr
subs. € 3.00/hr
(unlimited parking)
first 2 hrs: € 2.00/hr
subs. FREE parking
(unlimited parking)
CAR PARKS MILAN
Unlimited parking is set to car parks in the city centre. Parking rates in public car parks : € 5,00 for the first 2 hours subs. € 1.50-2.00/hr.

More information
P+R MILAN
Public Transport Companies in Milan offer parking capacity close the metro stions of MM1, MM2 and MM3 on the outskirts of the city.
Parking rate: € 2,10/day, € 6,20/week.

More information