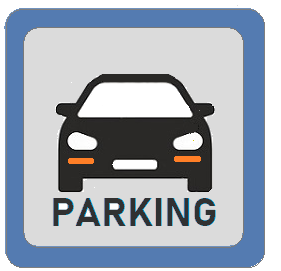 In the inner city of
BIELEFELD
is more or less a car free pedestrian zone with parking capacity around this area. Parking on-street is limited street and unlimited on p-lots and in car parks. Parking is rather cheap. Please note that a Low Emission Zone (Umweltzone) doesn't exist yet in the center of Bielefeld.
BIELEFELD : ON-STREET PARKING

Altstadt
Operational hours
Charge and Stay
Monday to Saturday
08:00 - 19:00
€ 1,30 per hour
Max 2-3 hours
LONG STAY PARKING
Long term parking is set every day of the week to the parking lots Zentrum and Große-Kurfürsten-Strasse : € 1.50/hr, € 10.00/day. Parkplatz Hauptpost : € 1.00/hr, € 8.00/day.
PARKING AROUND ALTSTADT
Around the inner city cheap parking is set on Monday to Friday from 08:00-18:00. Parking rate : € 0,70/hour.
PARKING BLUE ZONES
In the blue zones you may park 2 hours for free with your blue parking disc on Monday-Friday 08:00-11:00 and on Saturday 07:00-22:00.
FREE PARKING BIELEFELD
Parking is free along the Friedenstraße(Kaufhalle), Randenborgh Weg, Kesselbrink, Niederwall, Teutoburger Straße, Werner-Bock-Straße, Seidenstickerhalle, Hermann-Delius-Straße, Kunsthalle, Altes Rathaus Falkstraße, Kindermannstraße, Herforder Straße and Mercatorstraße.
CAR PARKS BIELEFELD
The car parks in and close to the center of Bielefeld offer you unlimited and cheap parking. Rate is € 1.00-2.00/hr, € 8.00-16.00/day

More information