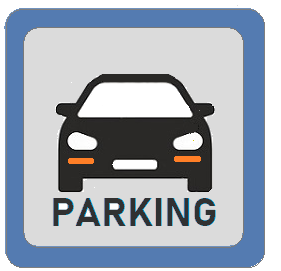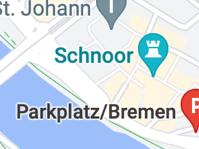 In
BREMEN
paid and limited parking is set In the city centre. For long parking you need to park on one of the parking lots or in the car parks. The rates are modest.
LOW EMISSION ZONE BREMEN

Please note that a Low Emission Zone (Umweltzone) exists in the Altstadt, the area east from the city center, and parts of Neustadt and Schwachhausen. Without a Umweltzone sticker the entrance into this area is prohibited.
More information.
BREMEN : ON-STREET PARKING (Altstadt, Bahnhof-Vorstadt, Neuenland)

Central area
Operational hours
Charge and stay
Monday to Friday
09:00 -20:00
€ 0,50/15 min.
Max. 2 hours
Sunday/Public Holidays
Free parking
PARKING AROUND CENTRAL AREA
In the first adjacent area around the city centre paid parking is set Monday to Friday from 09:00 -20:00 hours and on Saturday 09:00 - 18:00 hours. Parking rate is € 0,50/30 min., in the university area € 0,50/hr. The max. duration is 2 hours Parking on Sunday/Public Holidays is free of charge.
LONG STAY PARKING
On walking distance fro the city centre long term parking is set on the Brepark parking lots :
Bürgerweide
,
Überseestadt
en
Silbermannstrasse
.
Parking rate : € 1,00/hr. max € 5,00/day.
CAR PARKS CITY CENTRE BREMEN
Bremen offer a very big capacity of parking places in the city centre. Parking rates in public car parks : € 1.20-1.70/hour, daily maximum € 10.00-20.00. More expensive are the hotelgarages.

More information
P+R PARKINGS BREMEN
Free parking is available on the outskirts of the city. Public transport tot the city is available. P+R locations are : Hansa Carré, Hansator, Hemelinger Hafen, AG Weser, Grolland, Sielhof en Zum Kuhhirten.