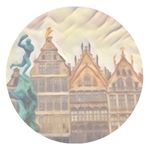 Car Parking in Antwerp? We give you some free advice about parking rates, car parks and p+r locations around the city. In
ANTWERP
paid on-street parking is set in the city centre and the area east from the Frankrijklei and the areas Stadspark, Zoo and railway station. The duration is limited. For long stay parking the car parks in city centre are the best places.
About Parking Antwerp in Belgium
Parking in Antwerp can be challenging, especially in the city center. Most of the on-street parking spaces are paid and have a limited duration. The parking zones and tariffs vary depending on the location and time of the day. You can pay for parking at the meter or via a mobile app. If you want to park for longer, you can use one of the public parking garages in the city. They are usually cheaper and safer than on-street parking. Another option is to park for free at one of the Park and Ride (P+R) locations at the outskirts of the city. From there, you can take public transport to the city center.
LOW EMISSION ZONE ANTWERP
The entire city centre and part of the district Linkeroever is a Low Emission Zone that regulates the entry for cars, minibuses, buses and coaches. Old diesel vehicles (Euro 1 standard or without Euro standard) are banned from the zone. For entering the LEZ you need to have a LEZ Pass to avoid a fine.
MORE ABOUT LEZ ANTWERP.

ANTWERP : ON-STREET PARKING

Central Area
Pay Times
Charge and Stay
Monday to Saturday
09:00 - 22:00
• 1 hour : € 2.00
• 2 hours : € 5.00
• 3 hours : € 10.00
(max 3 hours)
Sunday/Public holidays
Free parking
PARKING AROUND CENTRAL AREA
In the adjacent area paid and unlimited parking is set op Monday-Saturday 09:00-19:00 except the areas Zurenborg, Zuid and the Lange Lobroekstraat with chargeable parking from 09:00-22:00.
Parking fee : 1st hour € 1.00 subs. € 1.40/hr. Occasionnaly cheap day tickets are available : € 5.00
Lower charges apply is the second adjacent area : 1st hour € 0.70, subs. € 1.40/hr. Day ticket : € 3.80
PARKING IN BLUE ZONES

In the second adjacent area blue zones are set with 2 hours FREE parking from 09:00-19:00 with your international blue disc.

In the area Sportpaleis the blue zones times are Monday-Friday 18:00-24:00, Saturday-Sunday and Public Holidays 09:00-24:00.

In the area Expo blue parking zone is valid on Monday to Sunday from 09:00-19:00.
CAR PARKS CITY CENTRE
Safe and unlimited parking is available in the car parks in the city center. Rates : € 1.50-2.50/hour, daily maximum € 15.00-25.00.

More information
P+R PARKINGS ANTWERP
Free parking is possible at P+R parking lots on the outskirts of the city. Tram and/or bus transport to the city centre are available.

More information