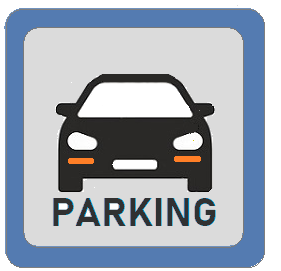 The inner city of
LUCERNE
is a pedestrian zone where traffic is forbidden. Outside this area there are just a few parking bays on-street. For a long stay we advise to park in the city centre car parks or to use the P+R's on the outskirts of the city.

A Swiss motorway vignette is required to use the national motorways. This sticker can be bought at customs offices, post offices, petrol stations, garages, road traffic offices. The price is CHF 40.
LUCERNE : ON-STREET PARKING

City Centre
Operational hoursing
Charge
Monday to Saturday
07:00 - 19:00
Zone 1 : € 2.50/hour
Zone 2 : € 1.00/hour
PARKING AROUND THE CITY CENTRE
In the blue zones around the city centre 1 hour is free with a Swiss blue parking disc. The Swiss Blue Parking Disc can be bought cheaply at most Corner Stores. For a longer stay you can buy a day pass for CHF 20,-.
P+R parkings LUCERNE
Cheap parking is set to the many P+R's located on the outskirts of town. Parking costs CHF 4.00-6.00/day. Parking for up to 7 consecutive days is permitted. Public tranport (train or bus) into town is available. More info :
LUZERNMOBIL
CAR PARKS LUCERNE
Unlimited parking is set to the car parks in the city centre. Parking rates : CHF 3.00-6.00/hour, daily max. CHF 30.00-65.00, pending on location.
P1 -
Bahnhofparking P1a+1b
- Bahnhofplatz - 6002 Luzern
P2 -
Parkhaus Hotel Flora
- Pilatusstrasse 4 - 6003 Luzern
P3 -
Parkhaus Kantonalbank
- Hirschmattstrasse 36 - 6003 Luzern
P4 -
Parkhaus Hirzenmatt
- Winkelriedstrasse 36 - 6003 Luzern
P5 -
Kesselturm
- Burgerstrasse 20 - 6003 Luzern
P6 -
Parkhaus Altstadt
Parkhaus Altstadt - Baselstrasse 4 - 6003 Luzern
P7 -
Parkhaus Hotel Seehof
- Schwanenplatz - 6004 Luzern
P8 -
Parkhaus Hotel Schweizerhof
- Schweizerhofquai 3 - 6002 Luzern
P9 -
Parkhaus Hotel National
- Haldenstrasse 23 - 6006 Luzern
P10 -
Parkhaus Löwencenter
- Zürichstrasse 9 - 6004 Luzern