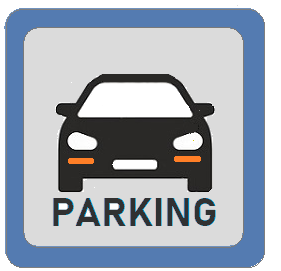 In
LAUSANNE
street parking is limited in the blue zones and the white zones. The Swiss blue parking disc is required. In the residential zone parking is forbidden for visitors.

A Swiss motorway vignette is required to use the national motorways. This sticker can be bought at customs offices, post offices, petrol stations, garages, road traffic offices. The price is CHF 40.
LAUSANNE : ON-STREET PARKING

City Centre
Operational hours
Charge and Stay
Monday to Friday
08:00-12:00/13:30-19:00
CHF 4,00/hour
(max 2 hours)
Saturday
08:00-12:00/13:30-18:00
Sunday/Public Holidays
Free parking
PARKING AROUND CITY CENTRE
Paid parking applies in the white zones on Monday-Friday from 08:00-12:00 and 13:30-19:00, Saturday 08:00-12:00 and 13:30-18:00. The parking rate is CHF 2.50/hour.
FREE PARKING
One hour free parking in the blue zones with a Swiss Blue Parking Disc on working days from 08:00-12:00 and 14:30-19:00 hours. The cheap parking disc can be bought at most Corner Stores. After 19:00 until 08:00 the disc is not necessary.
P+R PARKINGS LAUSANNE
Cheap long term parking is set to parking lots on walking distances from the centre. Parking rate is CHF 8.00/day. Public transport to the city centre is available. Parking + bus for CHF 16.00 per day. (P+R vennes CHF 18.-).

P+R Grand-Mont - Le Mont-sur-Lausanne

P+R Valmont - Route d'Oron 48 - 1010 Lausanne

P+R Ouchy - Avenue de Rhodanie - 1007 Lausanne

P+R Bourdonnette - Route de Chavannes - 1007 Lausanne

P+R Vélodrome - Avenue du Grey 43 - 1018 Lausanne

P+R Vennes - Route de Berne 150 - 1010 Lausanne
CAR PARKS LAUSANNE
Unlimited parking is set to the car parks in the city centre. Parking rates CHF 2.00-4.00/hour. Lower rates apply for evening and overnight parking.