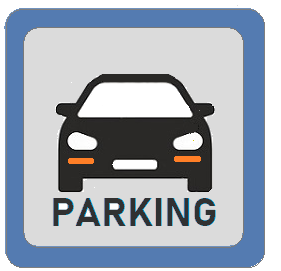 The centre of Luxemburg City has a limited parking capacity. On-street duration is limited and but not expensive. Paid parking is set on weekdays, not on sunday and public holidays. Parking is free in the bue zones and on the P+R locations on the edge of the city.
LUXEMBOURG CITY : ON-STREET PARKING

City centre
Oper. hours
Charge and Stay
Monday-Saturday
08:00 - 18:00
€ 2.00/hr (max 2 hrs)
(0range zone)
Sunday/Public Holidays
free parking
In the shopping streets (white zones) parking is free of charge for 30 min.
PARKING AROUND CITY CENTRE
In the first adjacent area paid parking is set on Monday to Friday from 08:00-18:00. The maximum stay is 3-10 hours.

Yellow zones : max 3-5 hours, € 1.00/hour.

Green zones : max 5 hours, € 2.00/3 hours, € 3.50/5 hours.

Violet zones : 10 hours, € 0.50/hour.
PARKING WITH BLUE PARKING DISC
In the blue zones you may park 2 hours for free on the authorized parking places around the city centre. Blue discs are available at gas stations.
P+R-PARKINGS
Cheap or even free parking is set to the P+R's on the outskirts of the city. Public transport to the city centre is available. The parking fee is included in the bus fare.

P+R Bouillon

P+R Kockelscheuer

P+R Luxembourg-Sud

P+R Kirchberg

P+R Beggen
P+R Bouillon, Luxembourg-Sud and Kockelscheuer are free of charge for 24 hours. From the 25th hour of parking, a fee of € 10,00 have to be paid per day.
CAR PARKS CITY CENTRE
Unlimited parking is set to car parks, parking rates : € 1.00-3.00/hour. After 06.00pm lower rates apply.
P1 - Parking du Théâtre – 1 rue Beaumont - L-1219 Luxembourg
P2 - Parking du St Esprit – 8 Bld Franklin D. Roosevelt - L-2450 Lux
P3 - Parking Knuedler - 15 rue Notre-Dame - L-2240 Luxembourg
P4 - Parking Aldringen – 29 rue Aldringen - L-1118 Luxembourg
P5 - Parking Monterey - 28 Avenue Monterey, L-2163 Luxembourg
P6 - Parking du Glacis – 21 Allée Scheffer- L-2520 Luxembourg
P7 - Parking Schuman – 49 Allée Scheffer - L-2520 Luxembourg