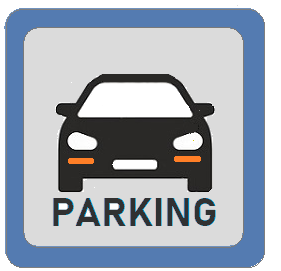 The inner city of HEIDELBERG
is a car free zone with parking for permit holders only. Visiting car drivers can only park in the first adjacent area. Signs of the parking-info-system will help you to find your parking place.
LOW EMISSION ZONE HEIDELBERG

Please note that a Low Emission Zone (Umweltzone) exists in the city centre area of Heidelberg. Without a Umweltzone sticker the entrance into this area is prohibited.
MORE INFORMATION.
HEIDELBERG : ON-STREET PARKING

City Centre
Operational hours
Charge and stay
Monday to Friday
08:00 - 19:00
€ 1,50/hr
Max. 30-120 min
FREE PARKING
In the blue zones around the Altstadt you may park 2 to 3 hours free of charge with your blue parking disk.
Free parking is also possible outside the city centre along the Kirchheimer Weg, near the Messe. Public transport to the city center is available.
CAR PARKS HEIDELBERG
Unlimited parking is also set to car parks in the city center. Parking rates in public car parks : € 1.80-2.00/hour, daily max. € 15.00-18.00.