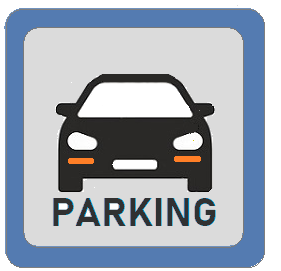 Parma is a located in the Italian region of Emilia-Romagna. The historical centre of Parma is divided into a car free zone, a ZTL zone for special permits only, and a prepaid parking zone with limited parking.
ZTL ZONE (Zona Traffico Limitato) PARMA

The ZTL is authorized to local inhabitants only or to individuals destined for a hotel in the zone. The ZTL is controlled by video cameras and active every day from 07:30 to 19:30. Free parking from 19:30 to 07:30, except in areas along blue and white lines.
MAP ZTL PARMA
PARMA : ON-STREET PARKING

City centre
Operational hours
Charge and Stay
Monday to Sunday
07:30-20:30
2 hours € 5.00
one day € 10.00

Parking machines are located on Piazzale della Pilotta, viale Basetti and on Via Martiri della Libertà corner with Strada XXII Luglio.
P+R PARMA FREE PARKING
Free parking is possible on the P+R parkings located at the access points of the town, located along :

Via Emilia Ovest (Crocetta)

Via San Leonardo (motorway A1 exit)

Via Emilia Est (Ex Salamini)

Strada Langhirano (near University)

Via Traversetolo, Viale Villetta

Largo Beccaria (next to Palasport)

Cavagnari.
Bus transfer to city centre costs just € 2.00 per person for the whole day.
CAR PARKS PARMA
Unlimited parking is set to car parks in the city centre. P-rate : € 2.00/hr, daily max. € 10.00.

More information