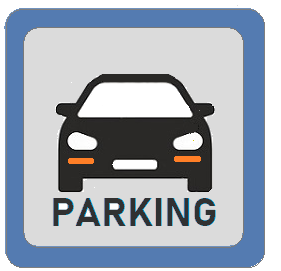 In
NUREMBERG
parking on-street is limited in the centre. The parking rate is rather high. Cheaper are the car parks in or close to the city center. Free parking is possible in the P+R-locations on the outskirts of the city.
LOW EMISSION ZONE NUREMBERG

Please note that a Low Emission Zone (Umweltzone) exists in the city centre area of Nuremberg. Without a Umweltzone sticker the entrance into this area is prohibited.
MORE INFORMATION.
NUREMBERG : ON-STREET PARKING
(Altstadt and Area Hauptbahnhof)

Central area
Operational hours
Charge and Stay
Monday to Saturday
08:30 - 20:30
€2,50/hr.
Max. 2 hours
PARKING AROUND CITY CENTRE
Parking is unlimited outside the city wall in the Adlerstrasse, Heugaesschen, Koningsgraben, Obstmarkt, Platenersgasse and Rosental.
Parking rate : € 0,50/15 min.
CAR PARKS NUREMBERG
Unlimited and cheap parking is set to car parks in the city centre. Parking rates : € 1.00-1.80/hour, € 5.00-15.00/day.

More information
P+R PARKING NUREMBERG
On the outskirts of Nurember you can park for free during 48 hours near the U-bahn or S-bahn stations. You can reach the centre in 6-12 min.

P+R Thon - Erlanger Straße - 90408 Nuremberg

P+R Herrnhütte - Äußere Bayreuther Straße - 90411 Nuremberg

P+R Mögeldorf - Freiligrathstraße - 90482 Nuremberg

P+R Röthenbach - B14 Ansbacher Straße - 90449 Nuremberg

P+R Bauernfeindstraße - Bauernfeindstraße - 90471 Nuremberg