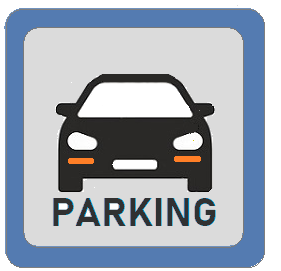 In
HELSINKI
chargeable on street parking applies in the city centre on weekdays and in the business centre also in the weekend and holidays as well. Parking is only allowed in marked parking spaces.
HELSINKI : ON-STREET PARKING
City Centre
Operational hours
Charge
Monday to Friday
09:00 - 21:00
€ 4.00/hour

Saturday
(Shopping Streets Only)
09:00 - 18:00 *
* Check the pay times on the traffic signs if paid parking is applicable.
PARKING AROUND CITY CENTRE
In the first adjacent area paid parking is set on Monday to Friday from 09:00-18:00. Parking fee Zone 2 is € 2,00/hour, in Zone 3 € 1,00/hour.
FREE PARKING
Free parking is possibe near to the Helsinki Olympic Stadium in Töölö, at Hietaniemi beach and on the parkings of the shopping malls on the edge of Helsinki.
CAR PARKS HELSINKI
For unlimited parking you have to visit the car parks in the city centre. Parking rates in public car parks : € 3.00-6.00/hour.

More information
P+R HELSINKI
Free parking is possible in the P+R parking lots on the outskirts of Helsinki, near bus stops and metrostations. Public transport to the centre is available.