MARBELLA
is a city in Andalusia, in southern Spain. The city has a difficult parking situation: narrow streets and often double parking. Due to safety reasons we would like to advise you to park in one of the expensive (undergound) safeguarded car parks.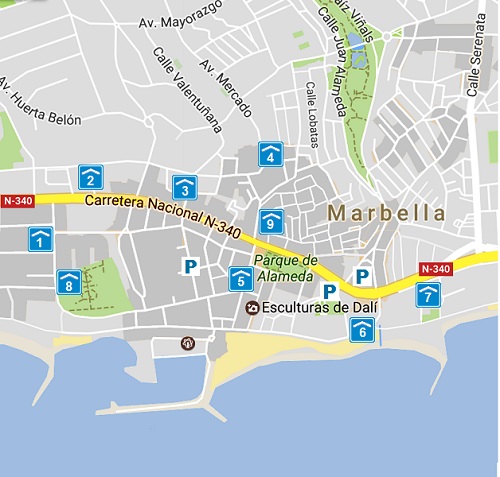 PARKING MARBELLA (SPAIN)
ON-STREET PARKING
City Centre
Operational hours
Charge and Stay
Monday to Friday
09:00-14:00/16:30-20:30
€ 0.70-1.00/hour
(max 2-5 hours)

Sunday/Public Holidays
Free parking
Parking is FREE OF CHARGE on parking bays with white lines.
CAR PARKS MARBELLA
Unlimited parking is set to car parks in the city centre. Parking rates in public car parks vary from € 1.80/hour (Las Terrazas) up to € 3.35/hour (Plaza la Victoira). Daily maximum € 16.00 - 20.00.
P1 - Parking Molino - C.Ramón Gómez de la Serna, 2 - 29602 Marbella
P2 - Empark Las Terrazas - Pl. Joaquín Gómez Agüera, 3 - 29601 Marbella
P3 - Parking Rasir - Calle Juan Ramón Jiménez, 11 - 29601 Marbella
P4 - Empark Mercato - Avda. Mercado cv, Calle Mercado - 29600 Marbella
P5 - Parking Indigo - Avda. del Mar - 29602 Marbella
P6 - Marbell Center - C/ Rafaela Aparicio, s/n. Bajo 2 - 29600 Marbella
P7 - Amare Parking - Calle Francisco Pedrazuela - 29603 Marbella
P8 - Constitución - Avenida de Arias Maldonado - Malaga
P9 - Plaza La Victoria - Calle Huerta Chico - Malaga