Turin is situated in the Piedmont region of northwestern Italy. On-street parking in the city centre is only allowed along streets with blue lines. Parking tickets to be purchased from tabacchi, news papers shops, cafes and parking officials. The inner centre of Turin is a ZTL.
ZTL Zone Turin

Turin has a restricted Zone Traffico Limitato area in the inner city centre. Driving is authorized to permit holders only. The ZTL is controlled by video cameras. If you stay in a hotel in the ZTL, ask your hotel to assist you with the registration of the license plate number of your car.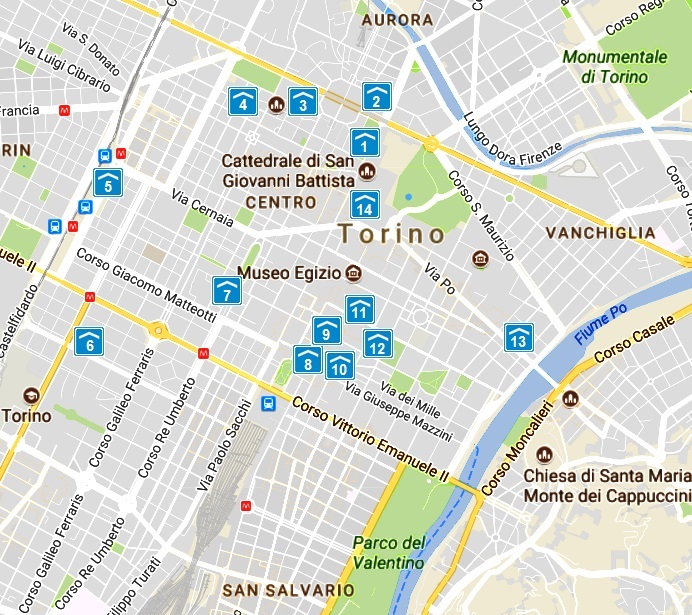 On-street parking Turin
City Centre
Operational hours
Charge
Monday to Saturday
08:00 - 19:30
ZTL-zone : € 2.50/hr *
Rest centre : € 1.50/hr
Sunday/Public Holidays
Free parking
* A daily central ZTL tariff ticket can be purchased for € 17,00.
Car parks Turin
Unlimited parking is set to car parks in the center. Rates : € 1.00-2.00/hr. Cheap rates apply for evening and overnight parking (after 20:00).
P1 -
Parheggio Santo Stefano
- Porta Palatina - Turijn
P2 -
Apcoa Parking Porta Palazzo
- Corso XI Febbraio, 3 - Turijn
P3 -
Apcoa Multipiano
- Piazza Emanuele Filiberto, 14 - Turijn
P4 -
Autorimessa Torino Centro
- Via Santa Chiara, 17 - Turijn
P5 -
Parcheggio Stazione Porta Susa
- Corso Bolzano, 47A - Turijn
P6 -
Parcheggio Corso Stati Uniti
- Corso Stati Uniti, 44 - Turijn
P7 -
Parcheggio Re Umerto
- Corso Re Umberto - 10128 Turijn
P8 -
San Carlo Felice
- Piazza Carlo Felice, 19 - 10123 Turijn
P9 -
Parcheggio Piemonte
- Via Piero Gobetti, 9 - 10123 Turijn
P10 -
Parcheggio Piazza BODONI
- Piazza Bodoni - 10123 Turijn
P11 -
ACI Parking Giolitti
- Via Giolitti 14 - Turijn
P12 -
Parcheggio Valdo Fusi
- Via S. Francesco da Paola - Turijn
P13 -
Vittorio Park
- Piazza Vittorio Veneto, 14G - Turijn
P14 -
Parcheggio Roma San Carlo Castello
- Piazza Castello - Turijn.