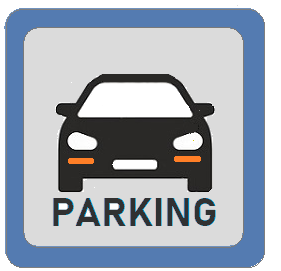 BRATISLAVA
is the capital and largest city in Slovakia. Parking here is restricted in the city centre. The parking bays are marked by a blue road sign. Parking on bays with yellow/red lines is forbidden. We advise you to park in one of the safeguarded car parks in the central area.
BRATISLAVA : ON-STREET PARKING

City centre
Operational hours
Charge and stay
Monday to Friday
08:00 - 18:00
€ 1.40/hr, day card € 8.50
(parking unlimited)
Saturday / Sunday
free parking
FREE PARKING
Parking is free for 3 hours at the parking lot Mlynská Dolina in the Litovská Street. The parking capacity however is limited.
CAR PARKS BRATISLAVA
If you prefer long-term parking, the car parks in the city centre are the best options. The parking fee is € 1.00-4.00 per hour, pending on location and time of parking. The high rates are in the hotel parkings. Lower rates apply for weekend, evening and overnight parking.
P1- Park Inn Hotel Danube - Rigeleho ulica - 81102 Bratislava
P2 - Hotel Devin - Riecna 4 - 81102 Bratislava
P3 - Garáž Osobny pristav - Fajnorovo nabrezie 2 - 81102 Bratislava
P4 - BPS parkovisko Starý most - Gondova - 81102 Bratislava
P5 - Garáž Carlton - Hviezdoslavovo námestie 185/1 -81102 Bratislava
P6 - Garáž Opera - Palackého 1 - 81102 Bratislava
P7 - Garáž Center- Uršulínska ul. 6665 - 81101 Bratislava
P8 - BPS parkovisko Veterna - Veterna ul. - 81103 Bratislava
P9 - Hotel Crowne Plaza - Hodžovo námestie 2 - 81106 Bratislava
P10 - Garáž Tatracentrum - Vysoká ulica - 81106 Bratislava
P11 - Garáž TESCO - Rajska námestie - 81108 Bratislava
P12 - Rajska - Rajska námestie - 81108 Bratislava
P13 - Cintorinska Parking - Cintorinska - 81108 Bratislava